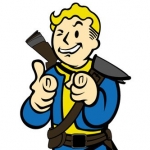 Mason (a slightly younger gamer than Tom) met Tom from a video showcasing the Goldywood Total Miner map. Mason decided to contact Tomzgames on Xbox Live and played Total Miner with him.
Eventually, the two became good friends over the internet. Tom has made several videos with Mason since their meet around 2011.
First Appearance on Tomzgames: Minecraft Xbox 360 Edition: Herobrine's Home?!?
Youtube: PioneerMason
XBL: MasonRacin
PSN: N/A
Steam: PioneerMason
Nintendo ID: N/A
Twitter: PioneerMason
Reddit: N/A
Real Name: Mason DeLong
Characters he has played
Quotes
"What are you....? NO!"
"Ah CRAP!"
"It's a speedo? No it's a rumpo... Oh it's a Pedo van, were pedos"
"I forgot my sandwiches"
Trivia
Mason has a very strange and odd laugh when he laughs a lot like in the CUP (Crack up points)
Mason has appeared in every Minecraft skit
Mason and Reece are cousins
His favorite game series is Fallout
Mason is usually one of the main roles in the Minecraft skits
He has an obsession with Quartz blocks
he got an xb1 for Christmas 2015